We dedicated to help you maximize your money by empowering
you to make smarter financial decisions!
This Season brings you more savings with DFCC Credit Cards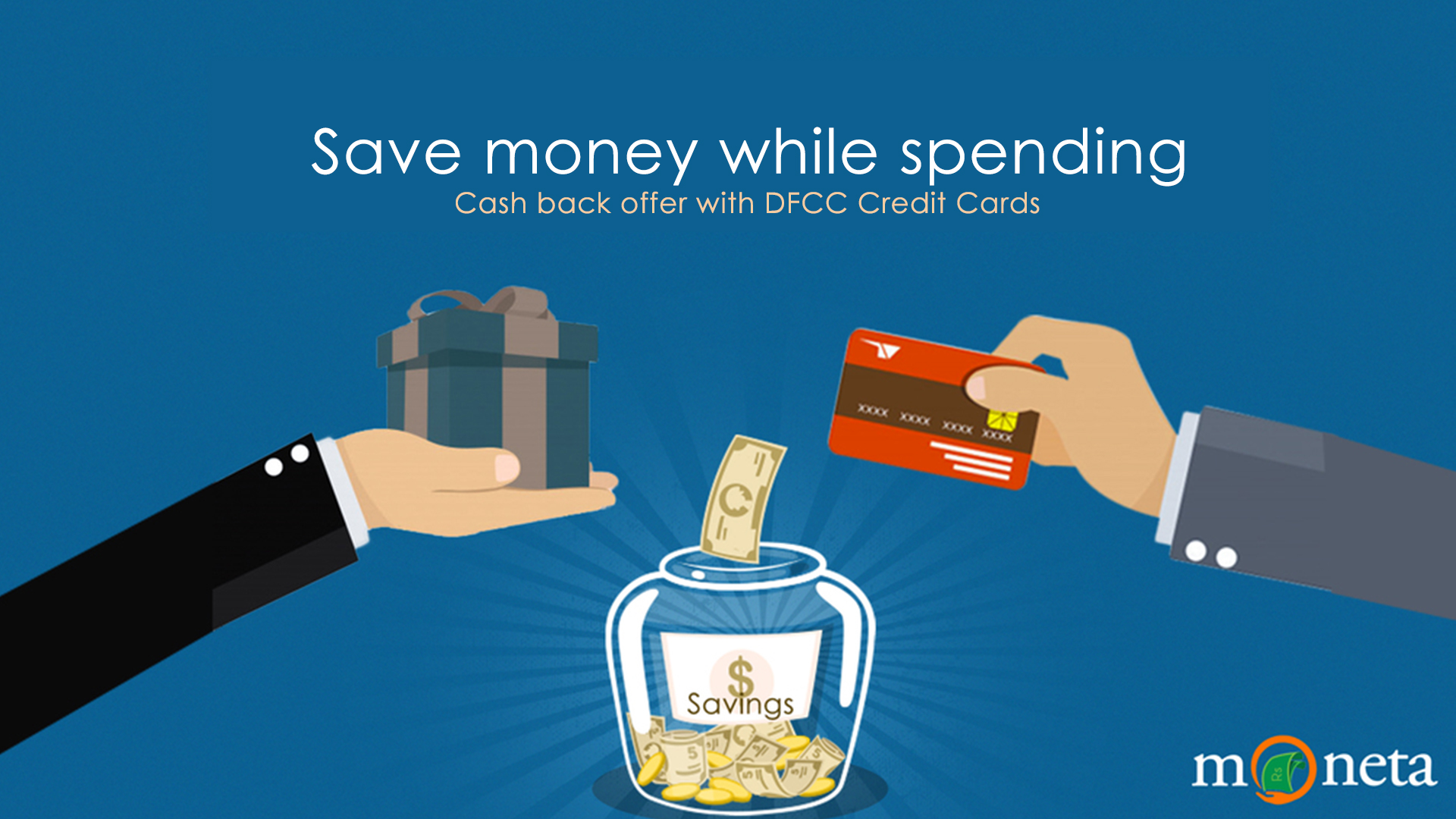 Christmas is indeed the most wonderful time of the year. It's a time for giving and receiving and letting those closest to us know how much they mean to us. Giving a loved one a token of gratitude or a Christmas gift to let them know how much they mean to you, especially during this festive season can go a long way.
However, searching for the right token or gift for the right person is no easy task. We want our gifts to be meaningful, useful and to some extent, affordable! Hence, it's no surprise that during Christmas time, we get to witness many kinds of shoppers. There are those who plan ahead of time with their lists for each person, potential gift ideas and for sales, cashback offers and deals that occur throughout the year to make the best of their shopping experience. The other kind of shoppers are the last minute ones who while being able to fulfill and cross off their shopping lists, might not make the most of their shopping expenses.
If you find yourself among the last minute shoppers, keep reading to find out how you can make your way through the shopping list, without surviving on scraps during the month of January.
How credit cards can give money back to our wallet
Credit cards can be really useful during this holiday season for not only the deals and discounts they have but also for the cashback offers some of them provide. A cashback rewards programme is operated by credit card issuers wherein a percentage of the amount spent is paid back to the cardholder. Credit cards such as DFCC Credit Cards offer cashback options, which equalises to you actually ending up saving money while spending!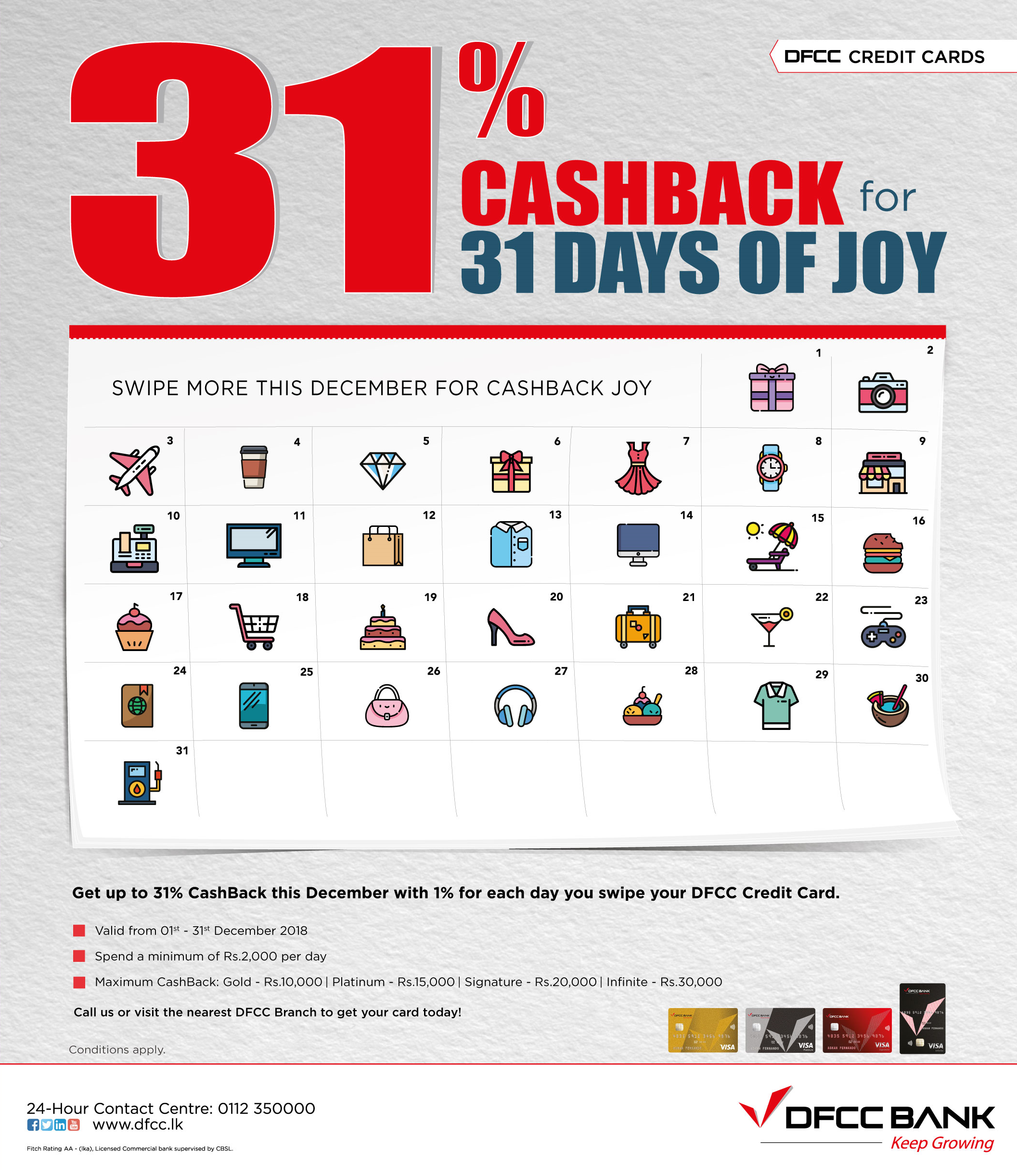 The offering from DFCC Credit Cards this season is extra special. For every day of credit card spending for a minimum of LKR 2,000, the cardholder is entitled to a cashback percentage equivalent to the number of days they've used their credit card. To elaborate, if you have swiped the credit card for 05 days for LKR 2,000 minimum, they will be entitled to a 5% cash back. And yes, you guessed it. While juggling 800 different things and you managed to use your credit card for 31 days for LKR 2,000 minimum, you get a whopping up to 31% cash back! That's right, up to 31%! When you do add the numbers it is quite a saving as the DFCC cashback means that you get your cash credited right back into your DFCC account.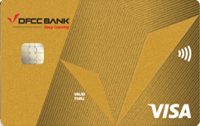 Get up to 31% CashBack this December with 1% for each day you swipe your DFCC Credit Card.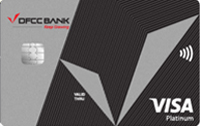 Get up to 31% CashBack this December with 1% for each day you swipe your DFCC Credit Card.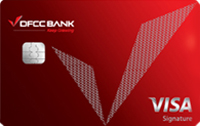 Get up to 31% CashBack this December with 1% for each day you swipe your DFCC Credit Card.
What's more the maximum extra cashback per card account will be capped at Gold LKR. 10,000, Platinum LKR 15,000, Signature LKR 20,000 and Infinite LKR 30,000 respectively. The offer also extends to transactions performed through the supplementary card wherein the primary cardholder will continue to receive more cashback.
Looking for deals during Christmas is great. However, it's even better when you are able to receive a cashback offers from store of your choice, as opposed to shopping only in a select number of stores! Not only do you get your cash back but you also get to lay out the terms on how you would want to shop. What's more, the cashback offer is not just for existing DFCC credit cardholders. It is even open to new cardholders who will be entitled to the same great deals.
With four credit card types to select from Gold, Platinum, Signature and Infinite, DFCC Credit Cards not only offer up to 31% cashback on every purchase this season but also 1% cashback all year round. Along with discounts up to 50% at selected merchants right throughout the year, DFCC Credit Cards also come with a 0% installment plans up to 24 months with a number of leading merchants in the city and even can opt for a loan of up to 75% of your credit limit for an instalment plan of 24 months at a reduced interest rate. A DFCC Credit Card is one card that fits fit into your wallet as you enjoy up to 31% of your spending this season.
Leave your comment