We dedicated to help you maximize your money by empowering
you to make smarter financial decisions!
Unmatchable offer from World's local bank HSBC for this Avurudu season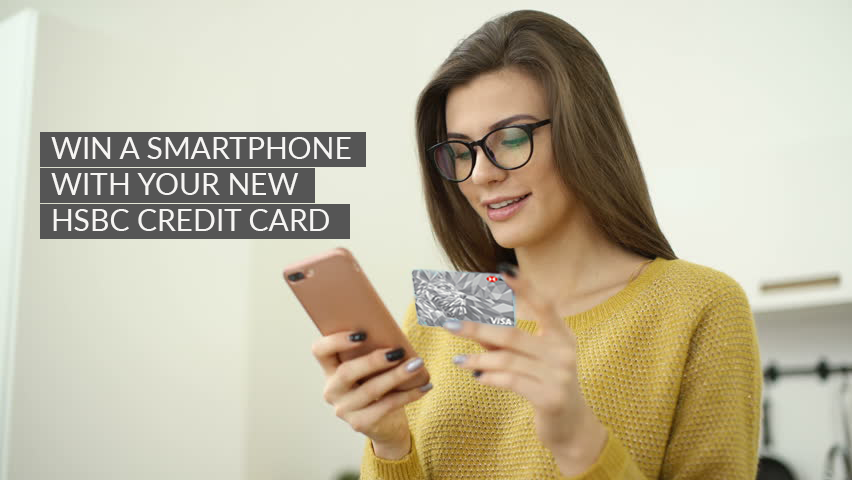 Delight yourself and stand a chance to win a Smartphone when you apply for an HSBC Credit Card.
HSBC, one of the world's largest, prestigious and leading banks in Sri Lanka here comes this Avurudu season to delight its customers with a Huawei Y6 II Android Smartphone to make your celebrations Bolder, Brighter and more Colourful.
What do you need to do to grab a Smartphone from HSBC?
Step 1
Be among the first 100 customers to apply for a new HSBC credit card online. You can apply bellow between the period of 4 April 2018 to 6 May 2018.
Step 2
Make the First Swipe for a transaction over Rs.5000/- using your new HSBC Credit Card on or before 30 June 2018 and Win your Huawei Y6 II Android Smartphone.


HSBC Credit cards are among the must to have credit card list which offers lot of privileges and huge money saving options to the customers all over the year. If you have an HSBC Credit cards, you can privilege to enjoy:
10% cash back on everyday spend at all Supermarkets and Fuel stations up to a maximum of Rs.1000/- per month.
Up to 50% off at a range of holiday spots, shopping and dining partners throughout the year. This only offer from HSBC only.
With HSBC credit card you can access the Biggest list of credit card offers in the country.
HSBC credit card gives you an opportunity to Enjoy up to 51 days of interest free credit.
You can use your HSBC credit card and obtain cash advances through an extensive ATM network.
New credit cardholders get additional 10% cash back on all other purchases up to a maximum of Rs.5000/- during the first two months from the day you activate your card. Minimum spend requirement is Rs.25000/- during the first two months.
Huawei Y6 II Android Smartphone! – What are the phone's new salient features?

Huawei Y6 II's new larger dynamic 1280 x 720 resolution display is crystal clear and rivals top digital screens, immersing you in the vivid colours and vibrancy of life in a whole new way. The durable GFF transparent lamination protects the display from scratches to ensure long-lasting brightness.
Super-powered 13-megapixel Rear camera – The wide-angle, 28 mm lens with a 2.0 aperture is made of scratch resistant, state-of-the-art glass.
Enormous 8-megapixel Front camera – The 2.0 aperture offers a huge, 77-degree range letting you take panorama selfies for the first time.
10 level Auto Face Enhancement and Make-up Mode – 10 millisecond face recognition creates beautification in real time and equipped with 8 beautification presets and customizable options.
Elegant Design Style – Metallic cross-stripes create 5176 facets and other textures include high-gloss black, or more fun options in yellow, pink and blue. The molded mirror polish and 60c-micro texture complete the device's superior design.
Customized Curves – The rounded curves of the 5.5-inch HUAWEI Y6 II are designed for easy one-handed use, offering the greatest display size, best design and greatest comfort.
Smoother Performance with the phone's Kirin 620, 1.2 GHz processor – The lightning fast, 64-bit octa-core allows multiple apps to be open simultaneously without sacrificing speed, power or performance.
Ultra-High Efficiency – The 2 GB of RAM, 16 GB ROM and 128 GB SD card (supported) gives you more capacity, lower power consumption, faster speed and longer use than any smartphone you have ever owned.
Android 6.0 + EMUI – It uses the EMUI4.1 operating system, using cutting-edge software.
How will you be notified of your winning chance?
The winning customers will be notified via a written letter or by an SMS from HSBC, giving you details on;
The place where you can collect the Huawei Y6 II phone,
The time and date, and
The person to contact to collect your phone.
Do not miss this Invaluable Offer!
Hurry to grab your Huawei Y6 II. Be among the first 100 customers to win a smartphone with your new HSBC credit card this season. This Promotion is valid only for successful credit card customers who have applied within the period, receive an HSBC Platinum Cash Back Credit Card and makes a Rs.5000/- swipe on or before 30 June 2018.
Leave your comment