We dedicated to help you maximize your money by empowering
you to make smarter financial decisions!
Blue-Green Budget – 2018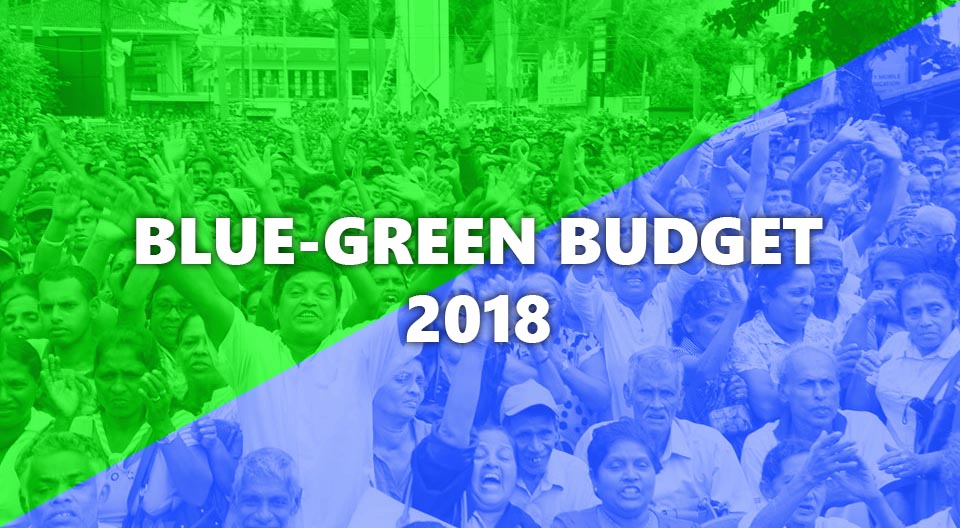 The Hon. Mangala Samaraweera, Minister of Finance and Mass Media presented the Budget for the Year 2018 to Parliament on November 09, 2017. Being the maiden budget of Mr. Samaraweera since he was appointed as the Minister in charge of Finance, expectations around 'Mangala's mangala budget' were huge.
Blue-Green Budget
Budget 2018 was themed as "Blue-Green Budget", mainly focusing at generating an environmentally sustainable economic growth in Sri Lanka by utilizing the much under-utilized ocean resources, thereby facilitating the diversification of the economy with the adoption of new and sustainable technologies especially in agriculture, manufacturing and fisheries. In order to reduce the environmental risks and ecological imbalances, he further emphasized on a new vehicle policy.
So what is on Budget, what is interesting for Working middle class.
Yes, Banking & Finance first!
Every bank transaction of Rs.1,000 will have a tax of Rs.0.20 as a loan repayment tax for the next three years.
Of-course everyone interested to know about the Tele-communication levy and Taxes.
Remaking of cell phone towers is discouraged and will be enforced a tax of Rs.2 per call for a minute from these towers.
A levy of Rs.0.25 per message is enforced for SMS marketing.
Whats on Education.
IT faculties will also be established in 7 universities. A faculty for marine education will be established at the Ruhuna University.
Subject such as Genetics, Robotics & Nano Technology to be introduced to School curriculum.
13 year programme is to be established to increase University intake for Medicine, Engineering & Science.
5 technical colleges will be established in 5 locations.
Payment of Rs.3,500 to students in national colleges will be increased to Rs.5,000.
Rs. 25 million allocated to establish a Virtual Blue-Green institute.
Would like to enter into Tourism business?
The Government will provide credit facilities for people who want to upgrade their homes for tourism business purposes.
Tourist Board approved three-wheeler services are to be introduced.
1% tax on the commissions derived by online travel agents from Sri Lanka.
VAT refund scheme for foreign passport holders will be implemented in airports.
Time to buy Electric Car
Meters will be made compulsory for three wheeler through the three-wheeler regulatory authority.
A special tax will be imposed on super luxury vehicles with an engine capacity exceeding 2,500 cc.
Low income families will be provided 20,000 housing units by 2020.
Rs.17 mn allocated to develop major cities such as Kandy, Anuradhapura, Galle and Jaffna.
Restriction on foreign ownership of land by listed companies will be lifted.
Foreign individuals will be permitted to purchase condo property below 4th floor.
Coastal area from Mt. Lavinia to Ratmalana will be renovated.
Rs.250 mn is to be allocated for the development of six ports including Matara, Hambantota, and Fort Fedrick.
Price ceiling for Important Food Items
Soft drinks which induce obesity and diabetes will have a tax of Rs.0.50 per gram with immediate effect.
Price ceiling for potatoes are made at Rs.80, Big onion at Rs.150, Dhal at Rs.150, dry fish at Rs.750 and coconut oil at Rs.350.
If you have any Small & Medium Enterprise (SME), you can get benefits from this Budget!
Rs.750 mn allocated for launch of Enterprise Sri Lanka loan scheme.
Rs.3 bn fund to be established to fund SMEs in IT Sector.
15% Interest relief for loans obtained by disabled entrepreneurs.
10% Interest relief for loans obtained by female entrepreneurs.
SME guarantee fund to help exporters in CRIB to obtain loans.
Over all, this budget focused at overcoming the present major challenges of rapidly and continuously falling government revenue, mounting public debt, severe balance of payment difficulties and encounters of natural disasters. Also, number of initiatives were announced to support the achievement of several medium term targets, such as per capita income of USD 5,000, creation of one million new jobs, encouraging FDI inflows of USD 5 bn, doubling exports to USD 20 bn, GDP growth of 5%, reducing inflation to around 6%, and attaining a primary surplus of 1% of GDP and budget deficit of 4.5% of GDP. Share your thought on this Budget on the discussion session.
Leave your comment