We dedicated to help you maximize your money by empowering
you to make smarter financial decisions!
5 Tips to Plan a Budget Weekend Trip in Sri Lanka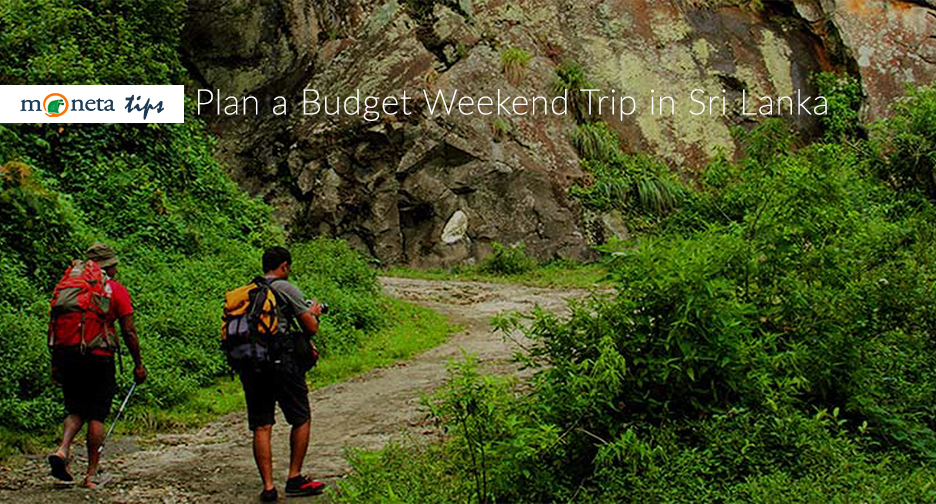 With the long weekend coming up, you might have already started making plans to head out of Colombo. Some of you (or your friends) may have plans on relaxing and getting pampered at a plush hotel (or resort). If you are wondering how to have a super-awesome weekend without breaking your wallet, here you can get few useful tips on planing a budget weekend trip in Sri Lanka.
Contrary to popular belief, travelling in Sri Lanka does not have to be expensive. Of course, the country does boast its fair share of top end hotel chains and boutique resorts. However, if that isn't your cup of tea, or you are bit tight on funds, read on. We've got a few useful pointers to help you have a well-deserved holiday.
Careful planning will help eliminate last minute distractions that can jack up your costs. Besides, if you are looking at cutting costs dramatically, draw inspiration from the backpackers who travel to Sri Lanka.
Here are 5 key aspects you must consider when planning your budget getaway:
Accommodation
Depending on where you will stay, your accommodation can often be your single largest expense. Options are plenty – from sprawling beach resorts to basic room-type spaces.
Backpacker lodges have proven to be a huge success among foreigners. They cost anywhere between Rs. 1,500 to 3,000 for a night with a small add-on for breakfast. And some of these places are unbelievably clean and offer brilliant service.
If you are travelling with friends, backpacker lodges will be ideal. They also offer the priceless opportunity to mingle with overseas travellers.
Quick tip: Skim through Trip Advisor for other travellers' feedback before making your booking.
Transport
Depending on where you are heading to and the duration of your holiday, transport, like accommodation, can be a fairly expensive affair.
Unless you are travelling in a private vehicle, where all parties can split the fuel costs and even take turns driving, if you are hiring a van, it can cost you around Rs. 5,000 per day (these charges depend on where you are heading, type of vehicle and supplier). However, the latter provides everyone the opportunity to have a good time while on the road. You can even pop open a bottle of alcohol on the way. Do remember to check if your driver has a place to stay once you get to the venue. Medium-sized and large hotels offer drivers' food and lodging FOC.
A much cheaper, but more adventurous, option is public transport. Most of the major destinations are easily accessible by train or bus. Some routes even have luxury buses (i.e. Colombo to Jaffna at Rs. 1,300 per person). Travelling by public transport also gives you a better chance to enjoy the trip fully. Getting off the train, finding your way around the town and heading to your accommodation space etc. can be a fun experience.
That being said, it might be convenient to have a private vehicle to take you right up to your hotel or room in the event you are travelling at an odd hour.
Itinerary
What is the objective of your getaway? Is it going to be relaxing by the beach or will you be travelling about exploring various attractions?
Whereas most excursions are quite cheap for locals (as opposed to foreigners), adventures like whale-watching can easily set you back by about Rs. 6,000 per person. If it is a 5-person trip, you've just overshot your budget by Rs. 30,000! Meticulous planning is crucial to ensure you don't keep pulling out your wallet while on holiday.
Food & Beverages
Are you one who prefers the glories of a fully fledged buffet, or can you make do with simple meals?
A great way to go would be to plan for one big meal for the day (preferably dinner) and opt for quick, shorter meals for breakfast and lunch. A buffet at a decent hotel can range between Rs. 1,500 to 5,000 per person. A quick meal at a roadside restaurant can even be as less Rs. 150 per person.
Season or Offseason
Hotel prices will shoot up during "season" times. And, making bookings can be a chore too, with most hotels claiming to be fully booked.
Keep an eye out for special offers via best leisure credit cards. HSBC, Sampath Bank and Commercial Bank offers best leisure credit cards to hold if you want to enjoy travelling and leisure activities in Sri Lanka. They offer year-round promotions on many of the country's hotels, sometimes going up to 50% off. I know friends who carry these cards just for travelling and leisure activities. Also, see if you can book well in advance to avoid last minute rush.
Another key thing to keep in mind is long weekends. If Friday or Monday is a holiday, you can expect many locals to frequent hotels. Bookings may be difficult. Especially if there is a credit card offer in place!
There you have it friends – 5 quick tips for a memorable weekend getaway without breaking your wallet. Plan your accommodation, method of travel, itinerary, food & beverages and dates, and you'll be in for a great holiday within budget!
Leave your comment