We dedicated to help you maximize your money by empowering
you to make smarter financial decisions!
Save Money With PickMe & HNB Credit Cards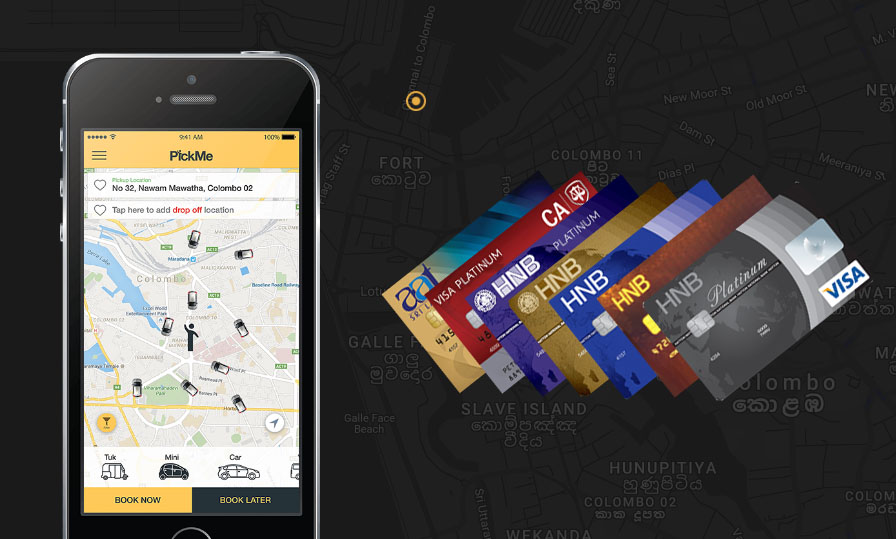 Sri Lanka's Favourite Taxi Hailing App, PickMe today introduce another payment method in PickMe App. If you are using PickMe, you can use your Credit Card or Debit Card when hiring a Tuk Tuk or any Taxi. This new feature let you enjoy hassle free travelling and seamless user experience with your PickMe App. Since it is a new feature in PickMe, HNB took a lead to announce a Travel promotion for HNB Credit Cards and Debit Card holders which help to get money back into HNB customers' wallet.


During this year-end holiday period, you can get Rs.300 off for your first three rides with PickMe, when you register and pay with your HNB Credit Cards between 22nd December 2016 to 05th January 2017 period. It is really a great opportunity to save nearly Rs.900 by using your HNB Credit Cards with PickMe for your travel.
Joining Fee is FREE for HNB Credit Cards
There is NO Fee to get Credit Cards in HNB. You will be fully insured during travelling abroad when you purchase air tickets using HNB Credit Cards. Also HNB offers 0% Easy Payment Plans for the credit cards holders. Here you can like to apply for a HNB Credit Card.
Would like to get to know more about best travel Credit Card in Sri Lanka or Money Tips in Sri Lanka, connect with Moneta.
Leave your comment